Last Thursday, i had a chance to watch not one but two movies in a day at a place called Sunway Carnival Mall at Penang with my relatives there.
We went there in 2MPVs and a normal car with a total of 14 people, 12 adults and two kids.
Upon arrival at the cinema (GSC), it was packed with people buying tickets.
Luckily for us, my cousin booked 15 tickets online for two movies, (RM9 each)the extra one was supposed to be for my cousin who FFK-ed.
Anyays, the first movie we watched started at about 1pm which is the 72 Tenants of Prosperity in which the tittle itself is a tribute to The House of 72 Tenants.
The first impression was this movie screams big budget with so many Hong Kong stars around especially those from TVB.
The story revolves around the tenants of a HK street and centres around the rivalry between two mobile phone shop owners who are played by Eric Tsang and Jacky Cheung who tried to win the love of Eric Tsang's wife played by Anita Yuen.
There was also a backstory which pays tribute to the House of 72 Tenants in which the late Lydia Sum Tin Ha's character is played by her daughter while there were younger versions of Eric Tsang, Jacky Cheung and Anita Yuen's characters played by Justin Lo, Raymond Lam Fung and Chen Fala respectively.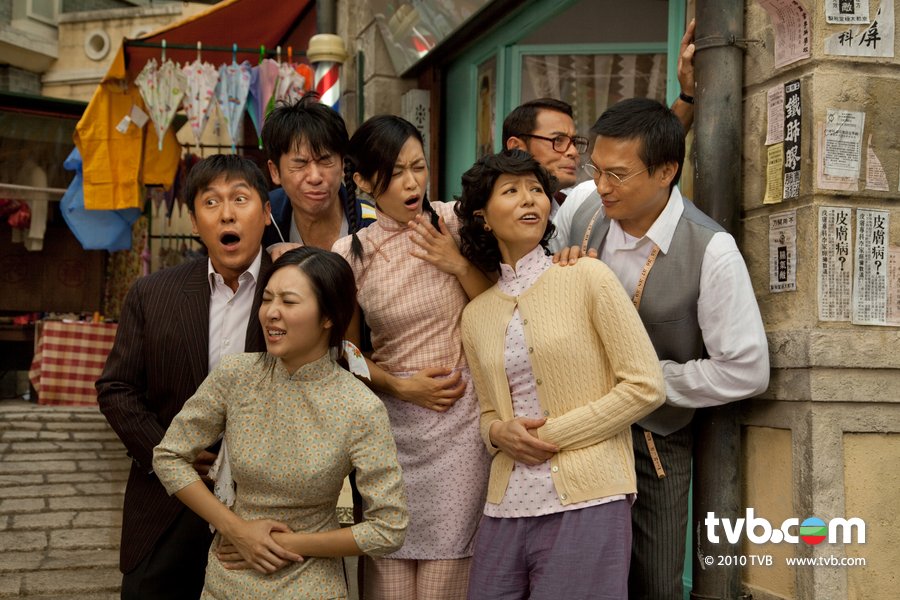 Bosco Wong, Linda Chung and Wong Cho Lam got some worthwhile screen time as the sons and daughter of the two rivals.
Michael Jackson tribute by Bosco Wong.
Some songs are sung in the movie with one tribute to Sam Hui who was a famous canto-pop singer in the 70s and I heard that his son is also in the movie.
There are a lot of cameo appearances and a short mention of Death Note and Full Metal Alchemist.
(The full cast can be found here:
http://en.wikipedia.org/wiki/72_Tenants_of_Prosperity
)
Lots of laughs all the way and the number of famous cast will keep you alert to spot them.
Basically this a feel good movie and there isn't really any complicated storyline but really wortwhile.
I give it a 4 out of 5 rating for funny jokes all the way day but the so called main villain,played by Kate Tsui, did not have enough screen time.
The second movie which was All Well Ends Well 2010 started at about 4pm with a one hour break for some food and rest.
This movie is also made for CNY especially and although it does not have as many stars as the previous movie, it still promises delivers funny jokes.
The story is about the people of Fa Tien country and centres around the events that happen when their princess returns from studying at Central China for 10 years.
The princess is played by Angelababy and she is escorted by a general played by Ronald Cheng who in the midst of sending her home got separated when they were attacked by robbers on an island.
An identity crisis occurs when a girl they saved was thought to be a princess and sent to the palace.
Meanwhile, the princess lost her memory and was found by the father of the girl they saved.
The king of the country who is played by Louise Khoo Tin Lok and an old maid (refers to someone who can't get married) played by Ng Kwan Yu provides most of the laughs with witty dialogue and funny actions.
The climax of the movie was reached when the king organises a competition to find a suitor for the fake princess (which sounds vaguely familiar) which was participated by the general, the real princess (?!) and the lover of the fake princess.
This movie starts out a bit boring in the beginning but gets better along the way and still entertaining event withe the small number of famous cast.
I give it a 3.5 out of 5 which may sound a bit harsh but this movie is a bit cliched and reuses some old ideas a bit too much but still nevertheless a great movie to watch.
Oh yeah. Before I forget, there was a scene from Ip Man that was shown in both movies.
In the first movie it was potryed by Linda Chung while in the second one it was by Louise Khoo.
And finally, I wish you guys a Happy Chinese New Year!
(a bit late but CNY is celebrated for 15 days) XD