Malaysia has recently made August the ICT month and one of the highlights is PC Fair that is held at least two times a year for three days each.
Friday was the first day of PC Fair organised by Pikom at KLCC. I reached there from my college at about 12.40pm and waited for a friend.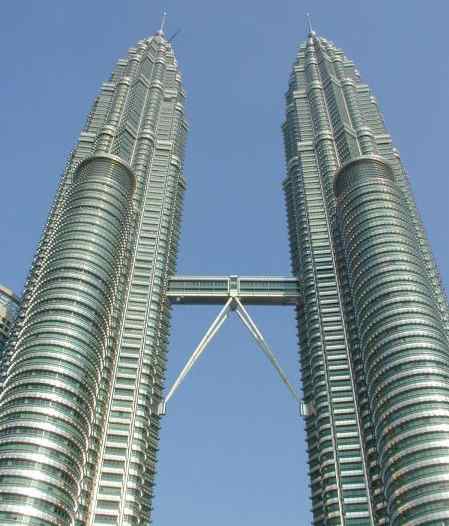 After he (Lam) arrived, we searched the food court,to have lunch, for a few minutes but gave up due to the increasing amount of people who were coming in and decided to go to Burger King instead.
During lunch, Lam had a bit of trouble with the imperfect dispenser machine there and got his hand stained with some carbonated drink. Apparently, the stain did not come off after washing with water.
After having lunch, we walked to the fair.
(As we all know, KLCC is beside KLCC. The first one is Kuala Lumpur Convention Centre while the second is Kuala Lumpur City Centre which is either weird or convenient.)
While walking up the floors, me and Lam joked about how there was a bridge which was at one of the levels and seemed very low. From that we talked about how if the world's tallest man were to arrive and hit his head on it.
The headlines: "World's tallest man hits head on former world tallest building",comes to mind.LOL. Lame.
Somehow I think because we criticized the building or rather the poor management of escalators, one of the escalators suddenly stopped when we were traveling up the floors. I did not get injured but Lam got some cuts.
Anyways, we started from the top floor where most of the laptops and smartphone booths are. The brands that are available are Dell, Acer, HP, and Samsung if I'm not mistaken.
While walking there I saw a friend who is from the same college but different class and she just asked me to survey the booth she is promoting. I forgot which booth it was but I remember that it was for laptops.
After that we continued exploring the area while asking whether the laptops have international warranties (Lam needs it as he is going overseas soon).
We finally reached the ground floor which is where most of the noise came from and also where we get to see more interesting stuff. Compared to the hall at the top floors, the air con was slightly cooler in the hall here.
There seems to be a few things that become quite popular which are high capacity hard disks combined with a RMVB player which you can play all the movies you own.
Some of them even have the nerve to call RMVB players as MP 5 players. LOL
Also, it seems that LCD monitors seem to have a lower price tag. A Samsung 18.5" monitor with 16:9 ratio costs RM390.
We went to check out a few booths for a pair of headphones that Lam was searching for his MP 3 player and while checking I met with a few other friends form secondary school and college. Two of them who were working with Avira is Wei Phang and VJ who are from my secondary school.
Another two friends I met there from are from my class from college who works for Kapersky who are Grace and ChingYee. It seems Kapersky is now having Jackie Chan as a spokesperson which weird but true. The Video is below:
It seems both sides want me to buy from them so I just settle with not buying anything. Avira antivirus had a spin and win game which makes me think that I can get the prize without spinning as I have friends there. Besides they also have
this.
After viewing most of the booths, Lam got his headphones and both of us are satisfied.
Besides the hordes of broadband promoters who swarm to you like your sugar and the myriad of sounds from the speakers booths, everything was quite OK.
Still I was planning to buy this:
Samsung Smx-C10. It is small in size and quite cheap: RM899. The only drawback is that it cannot take photos.
I can say that this trip was a success as we get updated with the latest prices on IT equipment and I give a thumbs up for this event.
PS. I heard that there was a lot of traffic jam on Saturday and most of the roads are closed. Seems that I can can't go today by car and need to rely on the train. Haiz, that means I have to use the KTM which becomes slower during peak hours.
Anyways, anyone who is going by car can see this:
Parking at KLCC:
http://www.pikom.org.my/cms/PCFair2009/CarPark_KL.gif